When video chatting was first introduced to the general public, few could have anticipated its meteoric rise from a new gadget to professional necessity. Webcams in the workplace mean we are video conferencing now more than ever. Video conferencing, an audio-visual connection between two parties in remote locations, makes it possible to confer directly with those people you would either speak with only on the phone or not at all.
The video aspect of the modern conference room is essential for picking up on the non-verbal cues that matter so much in business. No matter how far your colleagues, partners, or prospects are, with GoToMeeting by LogMeIn they can be in the conference room with you (virtually of course).
According to GoToMeeting themselves, video conferencing is not only the new frontier but a necessity to succeed in the modern workforce:
"Too many of us still rely on traditional telephone conversations to conduct business remotely. Although convenient, the phone limits collaboration. Video communication, on the other hand, makes it possible for you to talk directly with the people who matter most without missing all of those non-verbal cues that mean so much."
What Is GoToMeeting?
Released in 2014, GoToMeeting has remained a cornerstone of the web-conference market due to its straightforward system and its extensive international features. This combination of accessibility and international implications makes GoToMeeting the ideal choice for businesses with international locations or professionals who have contracts with international clients.
Additionally, if your business has already outgrown entry-level video conferencing tools and requires a more complex alternative, GoToMeeting is equipped for more advanced clients. Compatible with both PCs and iOS devices (including iPhones and Androids), GoToMeeting is serious about user-flexibility by allowing you to create or join an online meeting anytime, anywhere.
Top Features of GoToMeeting
There are many common complaints about modern video conferencing: syncing problems resulting in audio lag, fuzzy reception, and choppy video, unreliable Wifi connection resulting in a meeting turning from productive to pointless without a moment's notice. GoToMeeting has a solution to not only avoid these tech hiccups but take video conferencing to a whole new level.
GoToMeeting is preferred by many businesses for its user-friendly interface. From this interface, the user can simply start or join a meeting by providing prospective participants with a custom URL-as-password to enter the online conference room. This simplicity is second only to GoToMeeting's versatility. For the business owner on the go, or the remote worker who joins meetings from home being able to join meetings from any tablet or smartphone is a leg up in the field.
Additionally, GoToMeeting includes these state-of-the-art features designed for business:
High-quality video
Multi-stream HD technology
Live screen sharing
Specially designed mobile apps
Single-tap meetings
Free call recording
Integrated scheduling
Automatic bandwidth adjustment


How to Use GoToMeeting for Video Conferencing
Start a Session
Set Up Webcam
Edit Webcam Preferences
Share Your Webcam
Setting up a video conference right from your browser or joining one from an app on your phone has never been easier. All you need is access to a webcam, microphone, headphones, and a stable Wifi system for clear audio and visual. Follow along with GoToMeeting's own guide and you'll be participating in your next video conference before you know it.
1. Start a Session
From your computer or mobile app, start a GoToMeeting session. You'll immediately notice the Control Panel that opens on the right side of your screen, this is where the meeting magic happens.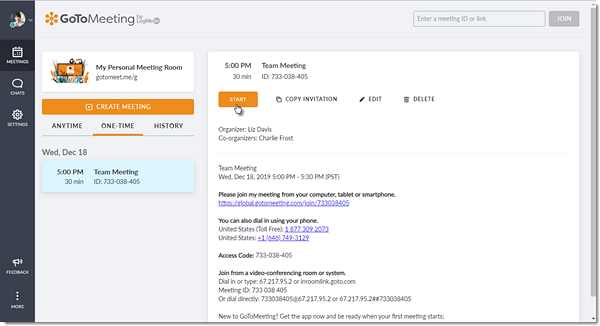 Source: GoToMeeting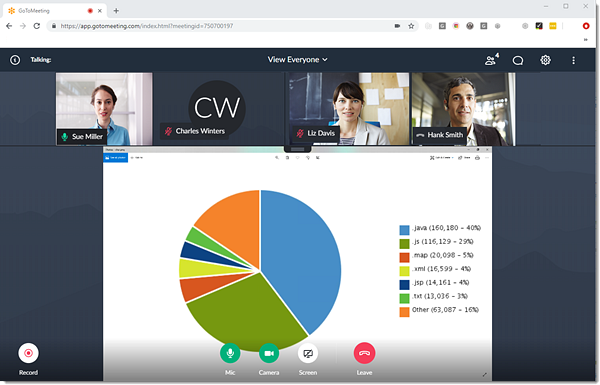 Source: GoToMeeting
2. Set Up Webcam
If you're on a desktop, make sure your webcam is connected. If you're on a laptop, the device most likely has a webcam built-in already. Either way, when you're set, simply click the webcam icon to start sharing your video.
3. Edit Webcam Preferences
This only applies if you're using the computer app. On Windows, click the Webcam tab to preview your video and change the display format. On Mac, open the Webcams drop-down menu to access the same preferences. You can even preview what your webcam will show if you want to check your picture quality. You're now ready to collaborate face to face.
4. Share Your Webcam
Click the camera icon to share your webcam. On all platforms, the icon sits right at the top of the GoToMeeting toolbar. Should you have any questions, don't worry. The GoToMeeting 24/7 support team and support documentation are always ready to help.
Still not convinced to try out GoToMeeting for your next video conference? Don't just take our word for it. With over six thousand positive reviews, Capterra rated GoToMeeting 4.5 stars.
Now that you're working with GoToMeeting, you're probably in the market for a new webcam before your approaching video conferences in the new quarter. You're in luck, Owl Labs' Meeting Owl Pro is compatible with GoToMeeting.
Looking for even more video conferencing tips? Find out what to look for in a video conferencing camera next.