What does the future of work look like?
The rise of the Work From Anywhere movement indicates the future of work will be much more distributed. The most recent State of Remote Work report found remote workers plan to work remotely more often and over 50% of in-office workers want to start working remotely in the future.
Executives, IT professionals, and office managers are on a mission to support their employees no matter where they work, whether it be from home, on the road, or in the office. These distributed teams need modern technology to keep employees connected, and intelligent video conference cameras provide a more inclusive meeting experience for everyone.
The Meeting Owl Pro improves the remote meeting experience with its enhanced 360° video and audio capabilities and Smart Meeting Room features. It makes the future of work that much smarter and makes meetings more productive no matter where participants are located.
What Is the Meeting Owl Pro?
The Meeting Owl Pro is the newest 360° video conference camera from Owl Labs. With its enhanced video and audio features, the Meeting Owl Pro enables meetings in bigger rooms with larger groups of people. See it in action.
Enhanced 360° Camera
The Meeting Owl Pro provides a stellar video experience with its enhanced processing power that allows for a 2X sharper 360° camera with 1080p resolution. It works with all popular video conferencing software, so you can use the software of your choice to hold productive meetings no matter where your team is located.
360° Speakers and Microphones
It offers enhanced audio capabilities compared to the original Meeting Owl. The Meeting Owl Pro has a 360° tri-speaker that provides 360° audio coverage that focuses more directly on people sitting in the room.
Its microphones have an 18-foot radius audio pickup which makes the Meeting Owl Pro a great choice for larger meeting rooms and boardrooms. Plus, the microphones equalize speaking volume so quieter meeting participants are heard and included in conversations.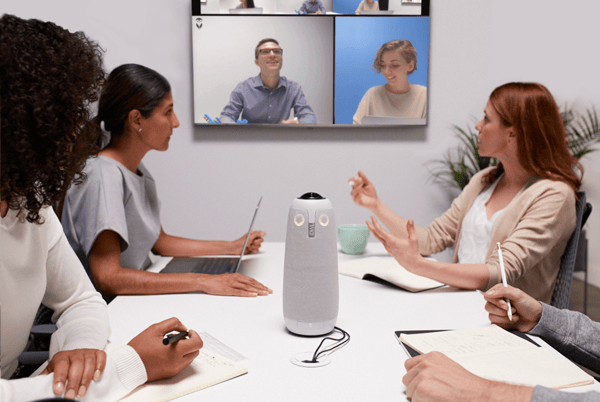 Faster Autofocusing
The original Meeting Owl introduced automatic focusing on the speaker so the camera autofocuses on the person talking and so remote participants can identify the speaker. The Meeting Owl Pro has even faster speaker-finding and autofocus. This improves the remote meeting experience by allowing remote workers to follow the conversation no matter where in-room meeting participants are seated in relation to the Meeting Owl.
Intelligent Meeting Room Capabilities
When you add a Meeting Owl Pro to your conference room, your space is enabled for an intelligent ecosystem which sets you up for more features and productivity applications over time.
When the camera identifies and focuses on a speaker in the room, the automatic zooming feature zooms in to frame the best view of the speaker. This provides remote workers with a more immersive and enjoyable meeting experience. They'll feel like they're in the meeting room with their colleagues and can easily participate in conversations and discussions.
See How the Meeting Owl Pro Stacks Up
With its enhanced video, audio, and Smart Meeting Room features, the Meeting Owl Pro helps teams work productively from anywhere. See how it compares to other video conference cameras by downloading our Video Conference Camera Comparison guide. Check out the technical specifications, key features, and prices of each product to see how the Meeting Owl Pro stacks up.