Although the back-to-school season is still a few months away, schools are making their plans for the fall. With the continued presence of coronavirus (COVID-19), it's unlikely that schools and classrooms will operate as they once did.
Primary and secondary schools are considering various options for the upcoming school year, like staggered scheduling, smaller class sizes, fully remote classes, and hybrid virtual and in-person class structures. The CDC Education Guidelines provide the safety precautions schools are thinking about when making plans to return.
One of the main dilemmas that educators faced with remote and distance learning was a lack of engagement with students. It's challenging to keep students' interest and keep them motivated when they're learning remotely. While distance learning presented challenges, many schools are considering some type of distance learning for the fall.
Now the question becomes: How can schools create an engaging and inclusive classroom environment when students are unable to attend in-person due to illness or quarantine?
Classroom technology that enables hybrid learning (remote and in-person) sets educators and students up for success and allows them to teach and learn from anywhere. Teachers and students can connect face-to-face, even if they can't be together in-person.
Any classroom becomes a hybrid classroom with the Meeting Owl Pro, the smart video conferencing camera that captures 360° video and audio for engaging distance learning. The Meeting Owl Pro automatically shifts the camera to focus on whoever is speaking and provides an experience that nearly feels like sitting in the classroom.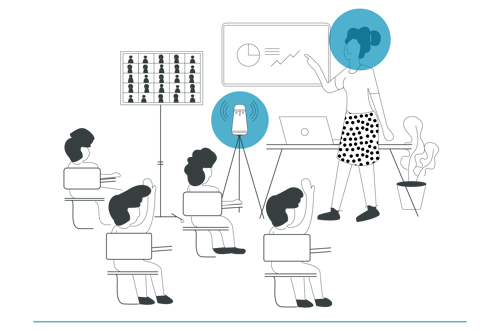 Here a few of the ways schools are using the Meeting Owl Pro to establish a collaborative, trust-based learning environment.
How K-12 Schools Use the Meeting Owl Pro
1. Synchronous Distance Learning
Some schools are considering keeping classes fully remote in the fall, with students learning from home full-time. With distance learning, educators rely on synchronous and asynchronous learning tools to communicate and connect with students.
The Meeting Owl Pro can be used if teachers are teaching in a classroom setting (without in-person students) and want the flexibility to move around the classroom and write on the whiteboard. It allows teachers to hold synchronous classroom sessions with their students to increase student engagement and participation during remote classes.
This synchronous, face-to-face class time is best used for activities that boost student engagement like:
Presentations and lectures
Group brainstorming sessions
Traditional classroom activities (e.g., small group activities, puzzles, games)


2. Hybrid Learning
If your school plans to adopt a hybrid learning model, some students will attend class in-person while others join from home. In a social-distanced classroom setup, the Meeting Owl Pro can capture the entire room.
With its 360° view, students who join the class from home can see their teacher, the whiteboard, and their fellow classmates. This gives students who are learning remotely the feeling that they're in the room and allows them to connect and engage with their teacher and peers.
Nearly 2,000 schools, colleges, and universities around the world use the Meeting Owl Pro to connect students and educators. See how John Brown University has arranged its classrooms with the Meeting Owl Pro:
3. Faculty and Staff Meetings
It's important for teachers and administrators to stay connected, whether they're at school or working from home. The Meeting Owl Pro can also be used to hold virtual meetings with remote and in-person teachers, administrators, and staff. Its plug-and-play functionality makes it easy-to-use, and it's portable so you can bring it from room to room.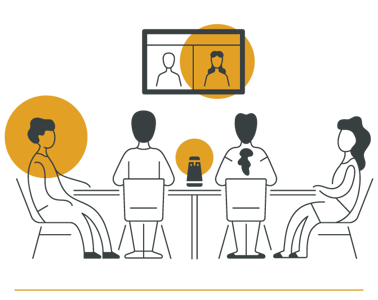 With the Meeting Owl Pro, students can learn from anywhere, and teachers can keep students engaged and connect with other educators, no matter where they're located. To see even more Meeting Owl use cases and classroom setups, check out the Meeting Owl for Education Guide.