In March, architecture, engineering, and construction firms experienced massive declines in business, due in part to certain projects being deemed "non-essential." Construction saw the biggest decline in employment since the 1930s and nearly half of architects in the UK reported losing income.
Companies began to get creative, turning to construction technology and project management software to incorporate team members working from home. CDC guidelines encouraged AEC firms to leverage video conferencing technology and reduce all unnecessary on-site meetings in favor of digital solutions.
A traditionally paper-heavy industry, AEC companies have quickly been forced to go paperless, creating a huge opportunity for easy-to-use technology like Zoom, project management software like Procore, and even our very own Meeting Owl. Some work sites and AEC teams have five generations working together, from traditionalists who were raised during the depression, all the way through Gen Z. All of these generations have wildly different experiences and comfort levels using technology, but in the "New Normal" will all have to adapt with changing requirements and safety precautions.
The search trends below show that there has been a steady increase in the interest in construction project management software and a major spike for video conferencing technology that is on the rise again. These solutions will become more and more essential and can help AEC companies save time and money and keep people working safely during COVID-19.
Google searches for "construction project management software:"

Source: Google Trends
Google searches for "video conferencing technology:"

Source: Google Trends
AEC and Video Conferencing Technology
Raise your hand if you attended your first Zoom meeting in 2020. (We can all agree that Zoom is a verb now right?) So, who Zoom'ed for the first time this year?
Zoom grew from 10 million daily meeting users in December 2019 to 300 million during the COVID-19 pandemic in 2020. As a simple, fast, reliable option, it became the preferred tool for those new to video conferencing.
Quick guide: What you need to host a video conferencing meeting with Zoom:
Sign up for a Zoom account (free accounts are limited to 40 minute meetings, paid accounts start at $14.99/month)
Download Zoom or go to www.zoom.us
Update your camera, microphone, and speakers if you're using a webcam4. Schedule a Zoom meeting or start an instant meeting
Invite team members (internal/external)
Meet!


AEC Firms are Requiring Video Meetings During COVID-19
Both the CDC and the Association of General Contractors (AGC) have recommended that construction companies use virtual meeting technology to replace in-person meetings as much as possible. Additionally, for in-person meetings, employees are required to stay six feet apart.
The AGC created a new website dedicated to construction safety during COVID-19, workingsafe.agc.org. The site provides guides, like this one from Choate, recommending that construction firms implement social distancing guidelines and use virtual meeting tools to limit interaction and promote safety.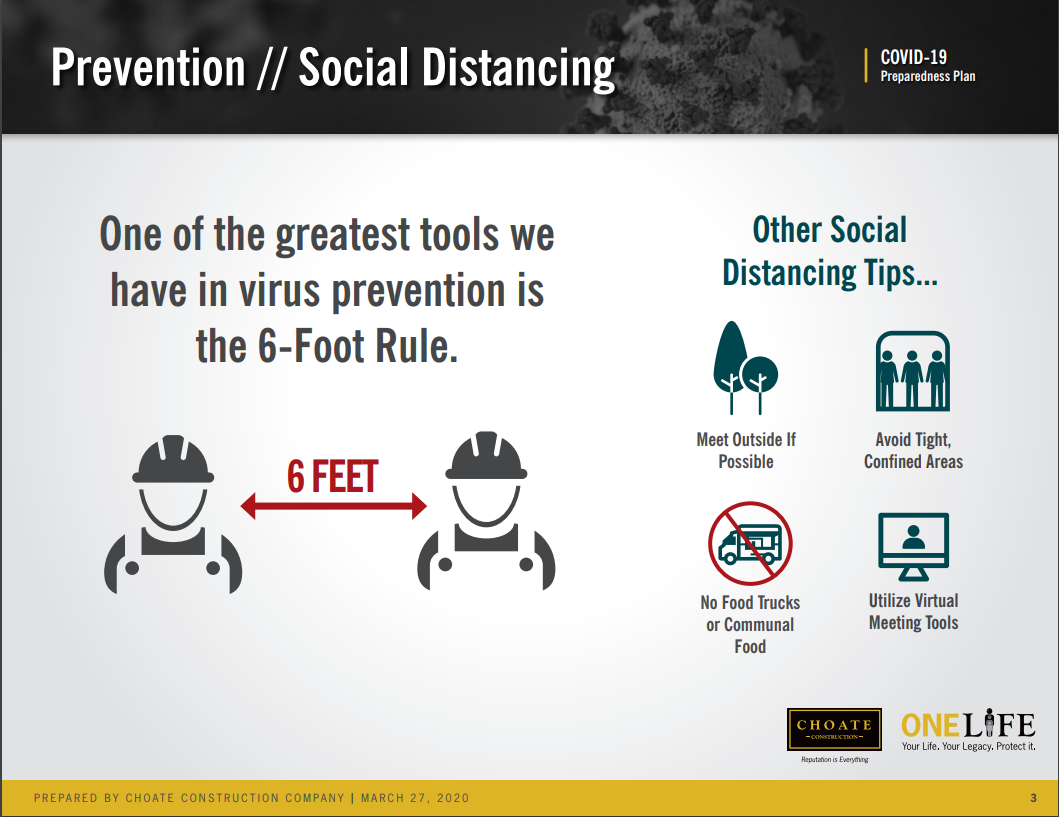 Source: Choate Construction COVID-19 Preparedness Plan
Virtual meetings can be used for:
Remote bids
Pre-project planning
On-site, socially-distanced meetings
Off-site, remote meetings
Hybrid meetings (on-site + off-site team members)
Connecting internal or external teams
Sales


There are even the added benefits of reducing costs associated with travel and allowing you to offer a competitive bid without travel costs.
Check out this list of the top 10 best free video conferencing platforms.
Construction and Engineering Trainings and New Hire Onboarding Online
AEC firms are working hard to recruit new millennial and Gen Z employees to the workforce. During COVID-19, when an electrical contractor apprenticeship program was closed, the organization pivoted to an innovative solution—video conferencing.
Instructors used Zoom and WebEx to complete the training and graduate the apprentices. During a time when many industries had to stop recruiting and training, construction and engineering companies found a way to keep the hiring process going in anticipation of safe work opportunities in the future.
For those new to construction, wanting to start in the field, or for existing architects, engineers, and construction workers wanting to hone their skills during the pandemic, there are lots of online courses you can take from home. Try Quantity Surveying and Building Estimation with Cad and Excel or Tiny House Design 101. Udemy has hundreds of online construction courses, online engineering classes, and video architecture courses, all with reviews from fellow learners.
Virtual training programs and paperless onboarding are both efficient and speak to younger generations, who are the future of construction. During COVID-19, OSHA, the Occupational Safety and Health Administration moved their required trainings for new employees online using Zoom. Courses like OSHA #502 Update for Construction Outreach Trainers and OSHA #3095 Electrical Standards being available online makes it possible to hire and train new employees in some ways, online. This maintains safety for your team and provides an efficient hiring process.
Construction Job Sites are Going Paperless
With limitations on jobsite presence during COVID-19, many contractors are going paperless. The need for communication is at an all time high, with some team members and stakeholders working from home or in a limited capacity. Every aspect of a building project needs to be documented and available online in order to keep on track with timelines.
Construction teams are turning to paperless options like:
Email
Texting and Whatsapp
Video conferencing
Video calls like FaceTime for quick updates
Construction project management software


Paperless job sites are more efficient and safer, with less contact, but will require more training for team members who are technology-naive.
Architects, Engineers, and Contractors are Turning to Construction Project Management Software
As generations move up to leadership positions in the construction industry and in the current setting of limited physical presence on job sites, construction project management software is expected to grow significantly. It also helps contractors to maintain compliance with regulations, provide quick, up-to-the-minute information to clients, and operate a safe and productive jobsite.
Technavio predicts that the construction project management software market has the potential to grow by $724 million USD through 2024. AEC firms can use software for financials, team management, project management, maintaining and digitizing documents, and for materials management. Many software options accomplish all of these tasks.
Top construction project management options include:
Oracle
Aconex
Procore
Oracle
Buildertrend
Sage
Co-construct
Jiansoft
e-Builder


The Procore + Zoom Integration
Procore is a top construction software with over 1 million users in architecture, engineering, and construction. It is a cloud-based solution offering document management, drawing tools, RFI tools, communication options, daily job reports, inspection reports, and more.
Procore VP of Product, Brandon Terry, says "Our entire product development process is centered around creating products our users will actually want to use. So how do we do that? We involve our users in the process! Truly listening to their feedback makes all the difference to us. Two brand new tools were born out of customer feedback."
During COVID-19, Procore's users faced a challenge. They were being recommended or required to hold video meetings as part of the construction and building workflow. With many construction workers being comfortable with Procore, they wanted a way to host video meetings directly through their construction project management software. In March, Procore announced an integration with Zoom where users could host and start a Zoom meeting directly from Procore.
For construction, engineering, and other building projects large and small, the future is paperless. From a safety and efficiency standpoint, software will help construction stay lean and keep every stakeholder and vendor in the loop without manual updates.