In response to coronavirus (COVID-19), organizations have adapted the way they operate to ensure health and safety is the top priority. Employees transitioned to working from home, business travel was restricted, and in-person meetings and conferences were canceled.
When your workforce is distributed across different cities, states, and countries, it's often challenging to collaborate and communicate effectively. Luckily, in the digital age, there are plenty of tools and software options available that allow teams to collaborate synchronously and asynchronously.
Virtual collaboration tools like Zoom and Canva have seen explosive growth in the use of their software. Zoom more than tripled its customer-base last quarter and predicts that it will see a 200% growth in revenue this year. Similarly, Canva has focused on its virtual collaboration capabilities and now has 30 million monthly users and a $6 billion valuation.
With the rising popularity and adoption of collaborative tools, it's clear how important it is for teams to stay connected as they work from anywhere. So, which virtual collaboration tools should you add to your tech stack? Here are some of the top virtual collaboration tools for 2020.
Top Virtual Collaboration Tools
1. Zoom
When your team is distributed, having a virtual collaboration tool that lets your team get together face-to-face and communicate synchronously is a must. Zoom does just that, and more. Not only can you meet with your colleagues in real-time, but you can also share your screen and use the chat feature to continue the conversation via text.
Plus, the breakout rooms feature allows you to collaborate in smaller groups — this is especially helpful for virtual brainstorm sessions. Zoom integrates with other software to help you schedule and start meetings, share content, and more.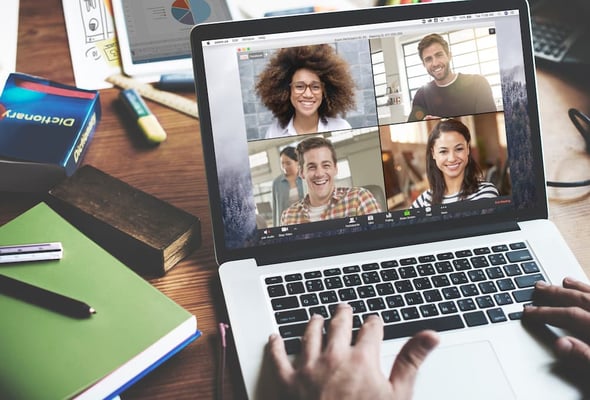 Source: Zoom
2. Canva
Canva is a tool you can use to create graphics, presentations, and any other design elements your team might need. It offers thousands of free templates, images, and graphics that will help you create your own custom designs.
You can collaborate virtually with teammates by sharing designs via a link or email. With Canva Pro, you can save your organization's fonts, color scheme, and images with the brand kit feature so you have all your design elements in one place.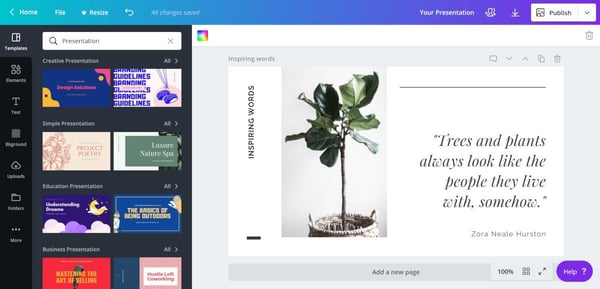 Source: Canva
3. Meeting Owl
The Meeting Owl enables teams to collaborate from anywhere. It's been used by remote employees as they work from home and it supports hybrid teams of in-office and remote workers. The Meeting Owl Pro's high-quality, 1080p 360° camera makes you feel like you're in the room – even if you're not. Plus, its smart camera autofocuses on whoever's speaking.
As COVID-19 continues to shape the future of work, many organizations will adopt a work from anywhere culture. And the Meeting Owl Pro helps to connect these distributed teams for a frictionless meeting experience.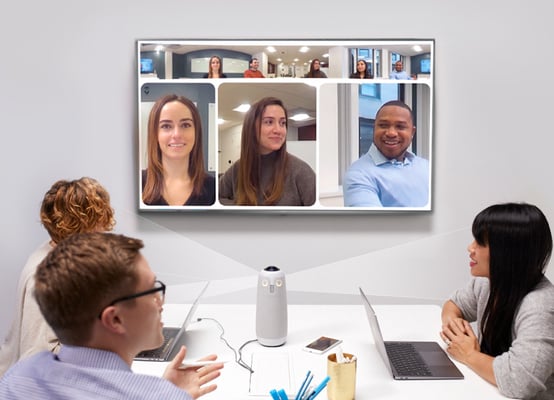 Source: Owl Labs
4. Slack
Slack allows for real-time and asynchronous communication. By creating different Slack channels, cross-functional groups can collaborate with one another, no matter where they're located.
While Slack is often used for day-to-day conversations, you can also have some fun with it by adding Slack bots that keep your distributed team engaged. This virtual collaboration tool can help you build a team culture and help your team stay connected.
Source: Slack
5. GSuite
GSuite is a suite of software that teams can use to collaborate with one another via various tools including:
Gmail for emails
Calendar for shared team calendars
Chat for instant messaging
Meet for video and voice conferencing
Drive for cloud storage
Docs for word processing


With these virtual collaboration tools, you can coordinate schedules with your distributed team, collaborate on projects, and meet safely from anywhere.

Source: Google
As the world embraces the work from anywhere movement, organizations will need to collaborate from anywhere too. With a suite of virtual collaboration tools, your team will be able to communicate and work together no matter where they're located.
Looking for more ways to collaborate effectively with your team? Check out these team collaboration strategies for hybrid and remote teams next.