No matter how many tools and technologies for productivity, document-sharing, and note-taking are invented, there's nothing like the feeling of writing out ideas on pen and paper — or on pen and whiteboard.
Whiteboards can be a useful productivity tool for remote, office and hybrid workers alike. They help share ideas and visualize thought processes for everyone in the meeting. In this post, we'll give you our best recommendations for whiteboards that work best for your particular office setup.
Jump to:
The best whiteboards to use at home
The best whiteboards to use at the office
The best whiteboards to use at home
1. Mounted whiteboards
Let's face it, home offices can get cluttered. A mounted whiteboard helps free up valuable floor space by locking right into the wall. In a home office, there's no need to drag a whiteboard around on wheels—let your home office be a set space for note-jotting and ideating. Home office whiteboards tend to be kinder on your budget, too, allowing you to invest more in necessary work from home improvements.
Ideally, your mounted whiteboard is also magnetic, for the 1-2 space-saving punch. Being able to use magnets to attach important documents makes an ideal work from home whiteboard.
Our pick: Quartet Infinity Glass Magnetic Dry-Erase Board, available in different sizes
Price: $73.00-$475.00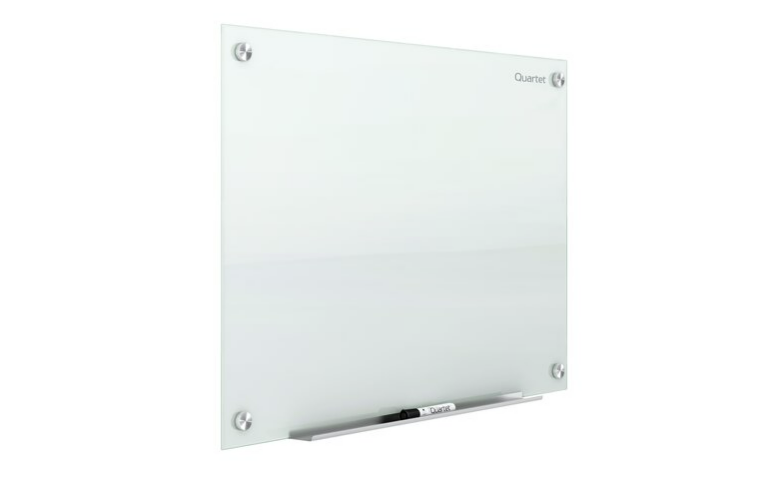 Source: Quartet
2. Calendar whiteboards
Calendar whiteboards can be helpful for personal or team planning. Remote workers might prefer them in their homes to help keep work and personal deadlines clear and organized, though some offices might choose to use these whiteboards for planning a product launch or event. These whiteboards are available for weekly or monthly planning, depending on your needs.
Our pick: Jumbo Dry Erase Laminated Wall Calendar
Price: $31.99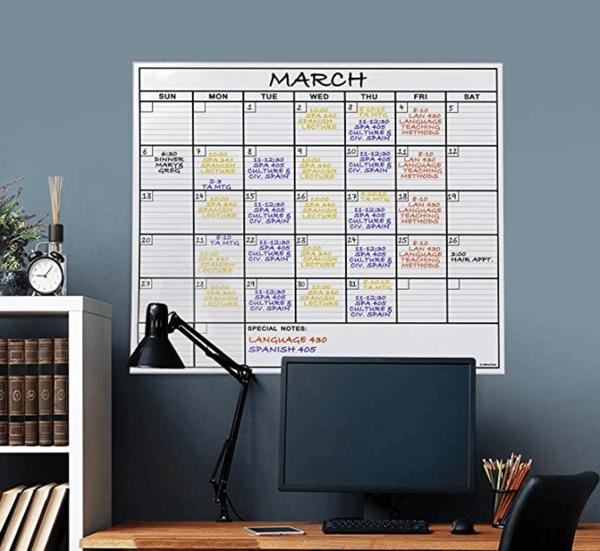 Source: Amazon
3. Desktop whiteboards
For individual employee desks or home offices, a smaller whiteboard may be the most useful for personal productivity. Desktop whiteboards can sit flat on a desk or be purchased with an easel so individuals can easily see their to-do list. A desktop whiteboard is a great addition to your working from home setup.
Our pick: Acrobis Small Dry Erase White Board, available in different sizes
Price: $16.95-$16.99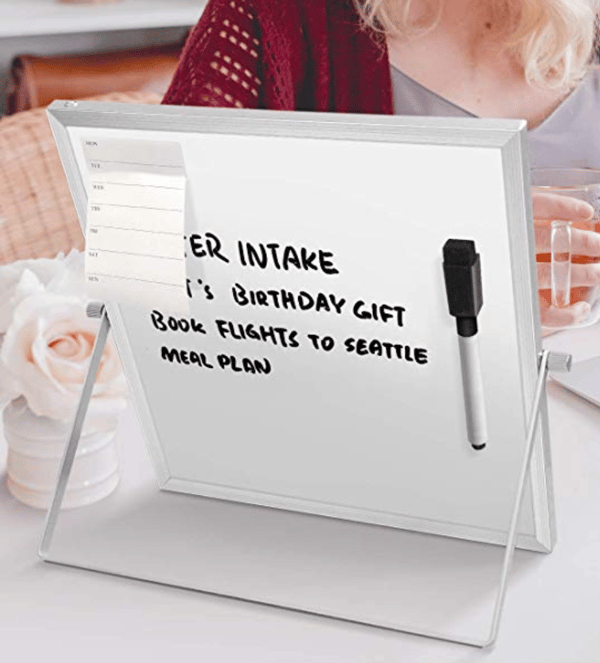 Source: Amazon
4. Lined, gridded, or dotted whiteboards
Lined, gridded, or dotted whiteboards provide more guidance than a blank slate for anyone taking notes or diagramming ideas. For anyone who is a visual learner or who is working on a project that needs specific formatting, a preformatted surface might be the right choice.
Our pick: JILoffice Magnetic Dry Erase Planning Board, available in different sizes
Price: $39.99-$199.99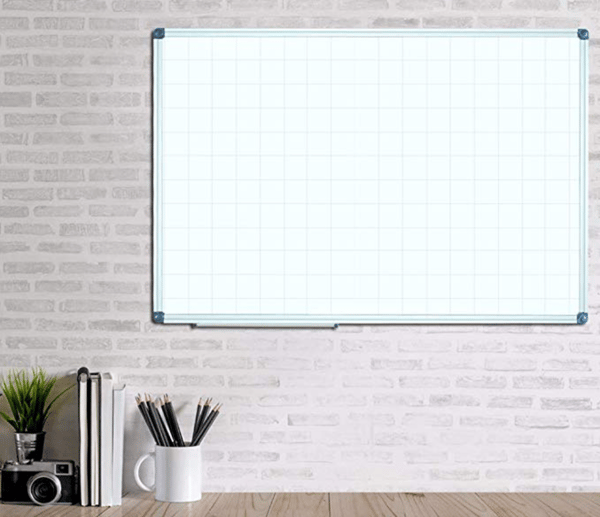 Source: Amazon
For more ideas, read our post about home office setup ideas.
5. Whiteboard keyboard stand
Talk about a space minimizer. These integrated whiteboards function as desk organizers, keyboard stands and more. They're great for jotting down important reminders, making quick calculations, and leaving yourself a pick-me-up note.
Our pick: TSJ Office Small Glass Desktop Whiteboard Dry-Erase-Board - Computer Keyboard Stand, available in different colors
Price: $21.99-$33.99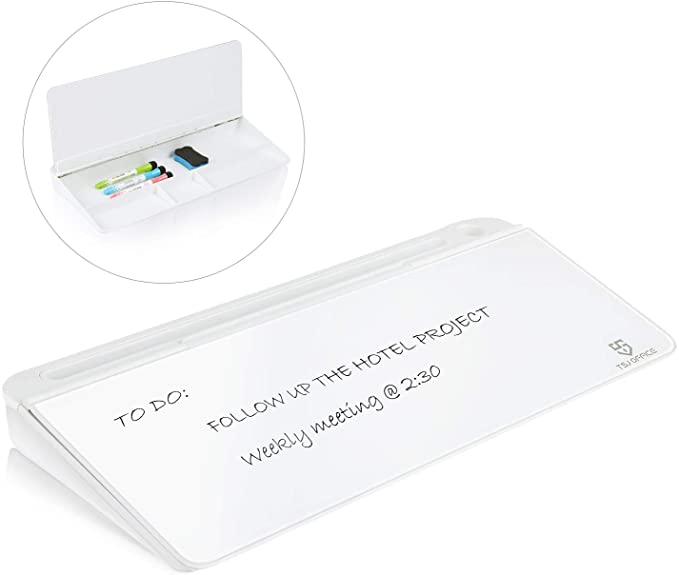 The best whiteboards to use at the office
1. Mounted whiteboards
Just like at home, mounted whiteboards help save space in your conference room. By mounting them on a wall at the right level, you or your teams won't have to strain their backs struggling to take down notes.
We recommend choosing a glass or porcelain whiteboard, both of which leave little to no leftover residue after erasing, making it easier for others to view what's been printed.
Pair your whiteboard with video conferencing technology so remote and in-person employees can view your mounted whiteboards with ease. The Whiteboard Owl enhances the Meeting Owl Pro in rooms of all shapes and sizes, improving whiteboard visibility for remote participants.
If your organization has remote workers or your school has remote students, the Whiteboard Owl will help keep them engaged and able to participate during live brainstorms or lectures, and you'll be able to use the whiteboard as you always have.
Our pick: Audio-Visual Direct Frosted Glass Dry-Erase Board, available in different sizes
Price: $39.99-$259.99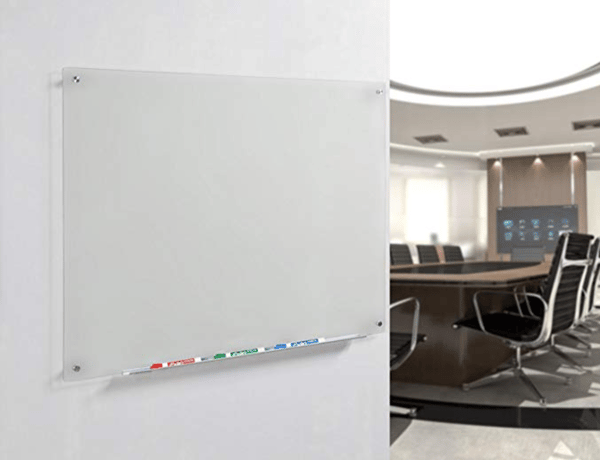 Source: Amazon
2. Smart whiteboards
Smart whiteboards are handy for immediately translating notes and diagrams from a whiteboard onto a web application. These can be useful in classroom or business settings, where multiple collaborators or documents are useful for information-sharing and collaboration.
Smart whiteboards are, understandably, a lot more expensive than traditional whiteboards, so they're not the best fit if you're looking for a solution to deploy across multiple different conference rooms or classrooms. Instead, these might be the best fit for rooms where employees are students are doing a lot of visual, collaborative work, such as storyboarding for new product design.
Our pick: Sharp AQUOS BOARD 75" 4K Ultra HD 20-Point Touch Display
Price: $4,950.00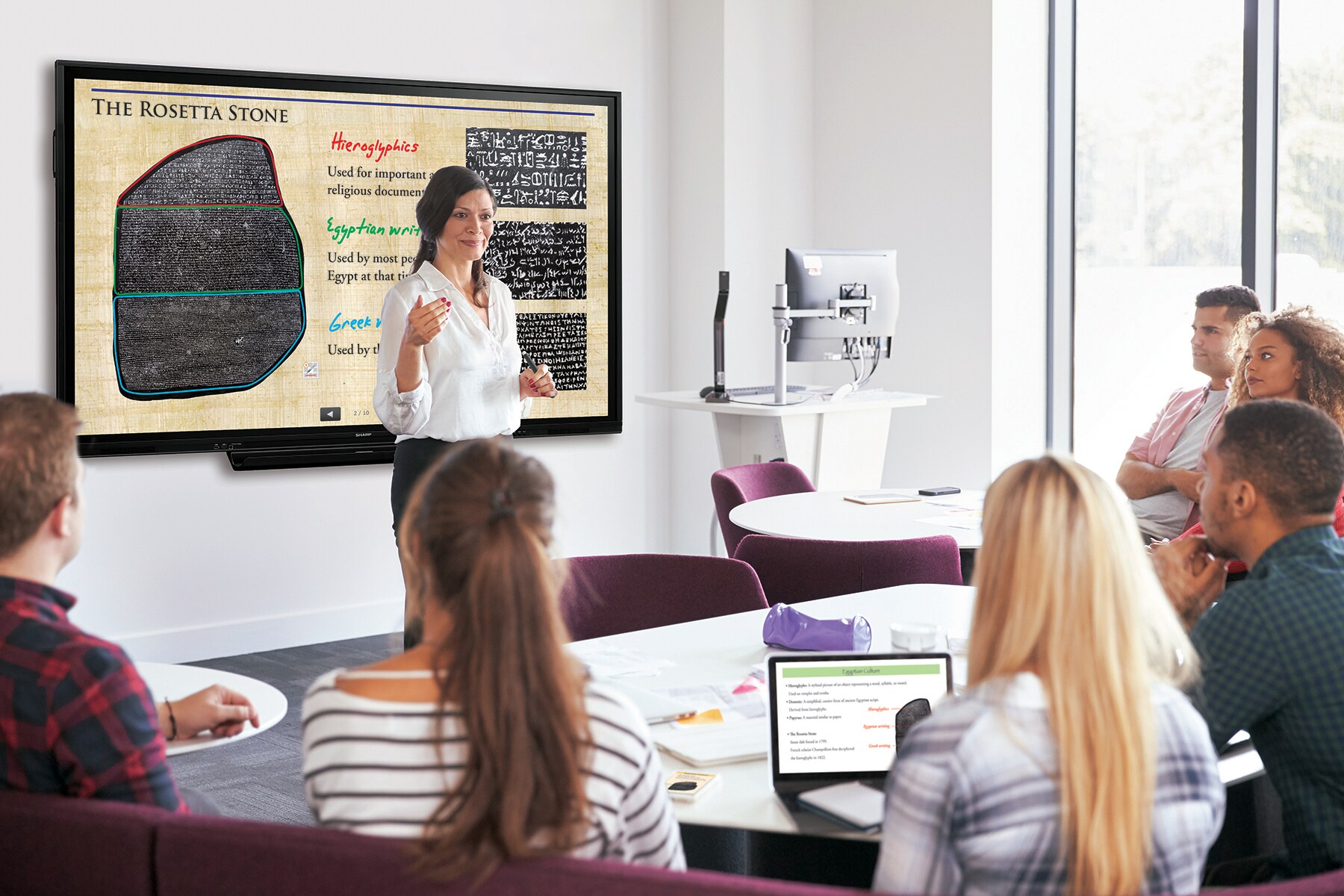 Source: CDW
3. Whiteboard cameras
A more affordable alternative to the smartboard is a whiteboard camera, which can live-stream or record whiteboard data to share and reference later. Our Whiteboard Owl pairs with the Meeting Owl to enhance and sharpen the view of the whiteboard so remote participants can finally follow and participate in the discussion.
Designed by the Owl Labs product and engineering teams led by roboticists, the Whiteboard Owl was built to support more inclusive hybrid brainstorms and lectures where remote participants can see writing on the board and participate in the conversation in real-time. The team puts out regular Whiteboard Owl security updates and software releases to ensure our products are smart and secure, including a major update in March 2022.
Our pick: The Whiteboard Owl
Price: $599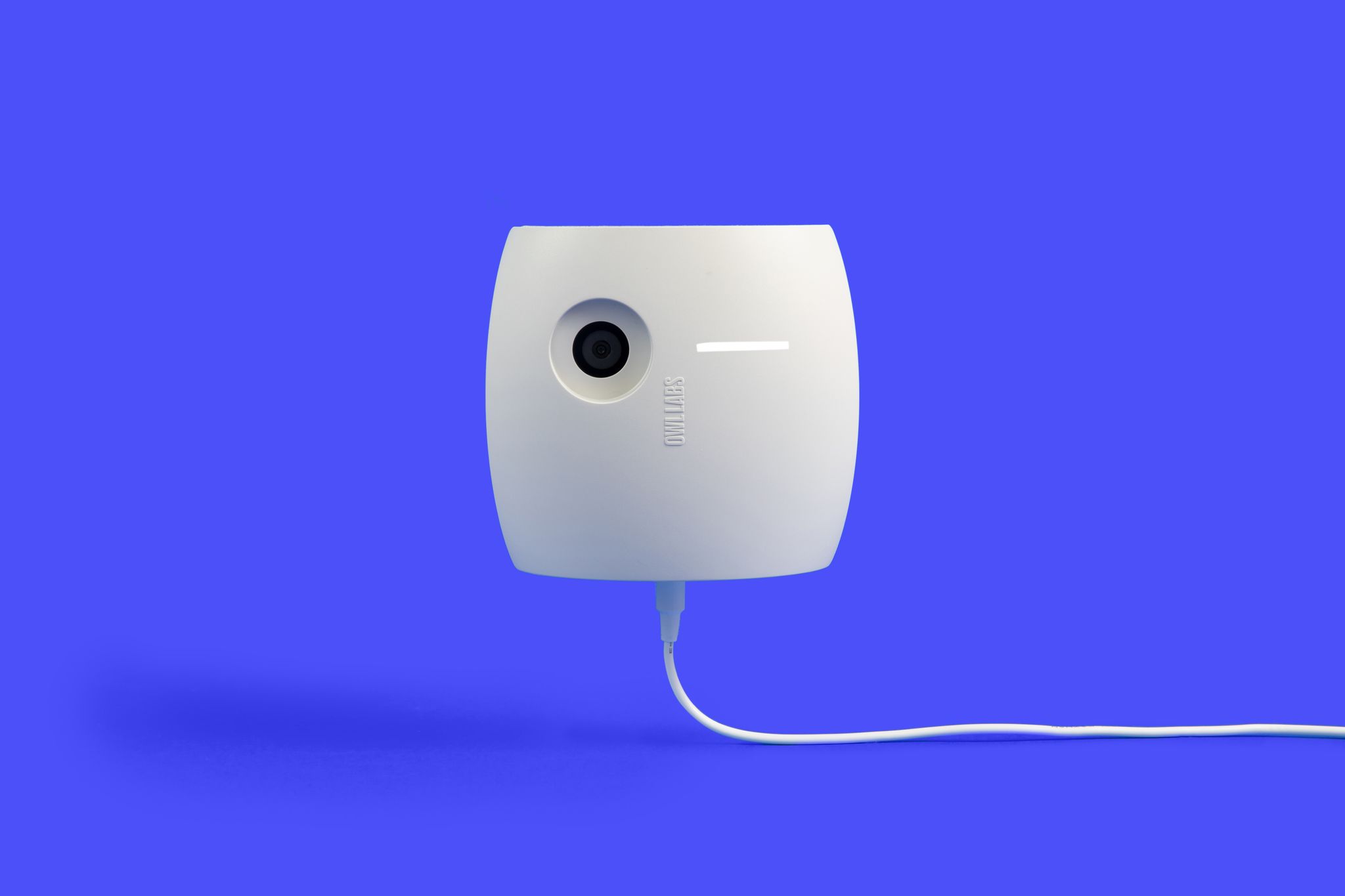 3. Mobile whiteboards
Mobile whiteboards can be very handy for a home office or a shared office. For remote workers working out of their homes, a mobile whiteboard can make any part of their home a productive one. For small offices, whiteboards can be useful if you have limited conference room space and employees need to be able to have productive breakout conversations.
Our pick: LUXOR Reversible Magnetic Whiteboard, available in different sizes
Price: $195.90-$225.28
Source: Amazon
How to pick the right whiteboard
With all these endless possibilities, how can you settle on the right whiteboard?
Consider how you want to use your board. Are you looking for space to write your own notes, or to collaborate with others? If it's the latter, you'll need a mounted, smart, or mobile whiteboard. At home or at your desk, you can experiment with the right personal whiteboard that works for you. Use these suggestions as a starting point to get an idea of your budget and preferences.
Happy shopping!